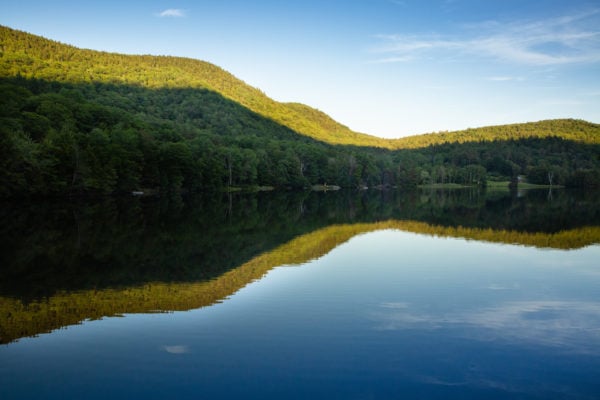 Anyone who has spent time on any of our properties knows that our beautiful lakes —Woodward Reservoir and Lake Ninevah—are jewels to both look at, listen to, and swim in. Surrounded by verdant woods and mountain peaks, they both are home to numerous reptiles and waterfowl, especially loons (which have returned from near extinction in these parts) that enchant us with their music while we sleep.
In the summer, we most appreciate the lakes for the fun they provide. There is nothing like frolicking in the water on hot summer days (of which there have been many of this summer). And, the ways to have fun are numerous and diverse. Campers play games like "drip, drip, drench" and have underwater tea parties in the shallow water. They might use the camp goggles and snorkels to look for fish and treasures in the watery depths. And jumping and diving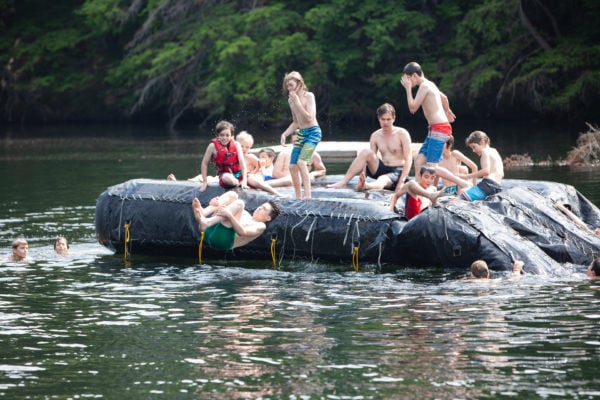 in its various forms is always a source of fun–from bobbing from one place to another, to going off the camps' rafts. Timberlake's waterfront sports "The Monster" which allows for raucous games of "King of the Monster." For daring sorts, there is the rope swing across the cove to swim to and attempt. And, even more challenging, last summer Indian Brook started "log rolling" at their waterfront, which requires swimming skills and balance to partake. We also enjoy our lakes by taking a dip after a particularly raucous all-camp game.
For those who want to move on top of the water, we offer boating at both waterfronts. After taking a "tippy test" so we know they can feel safe being dunked into the water from a boat while wearing a life jacket, campers canoe and sometimes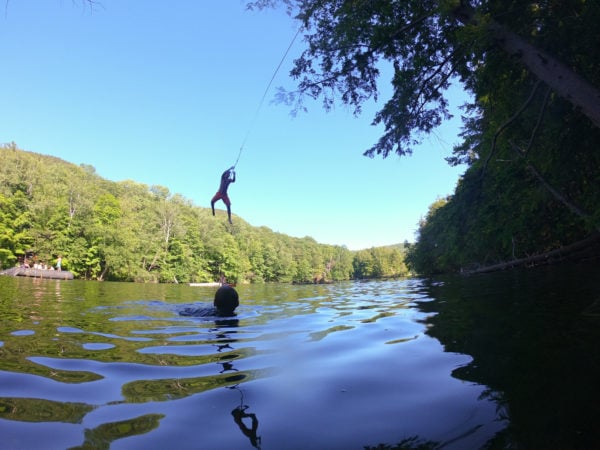 kayak around our lakes where there are inlets to explore, and at Ninevah, a wild swamp to traverse. Besides the fun (and negotiation) of working together with another person to get anywhere in your boat, being out on the lake lets a camper experience what our camps look like from different perspectives. There is an opportunity at all over our camps to work on improving one's nautical navigation skills and even go on one of the various canoe trips we send throughout New England.
In addition to playing in or traveling on the water, there is the physical joy of being able to propel one's body through the water, learning new strokes and feeling increasingly confident. We teach kids how to do this with age-appropriate
lessons offered formally at some camps (and informally at others), beginning with "blowing kisses and whispering secrets to the mermaids" at the Barn Day Camp, to lifeguard training for our Tamarack Farm campers in the Counselor Apprenticeship Program. We offer distance swims so that campers can increase their endurance, with a "grand circuit" being the big prize that many aims for (15 potential grand circuit swimmers at Indian Brook today). Knowing how to swim is a lifetime pleasure as well as safety skill that we are able to provide to our camp participants. We also view it as an equity issue — a competence that all should have a chance to achieve, but one that isn't always available for everyone outside of camp. With this in mind, we are trying to find ways for kids to access the water more frequently. Indian Brook changed its swim lesson time this summer to the afternoon so the water would be more inviting for beginner
swimmers. And Timberlake is finding opportunities for campers who indicated that their goal for themselves for the summer is to improve their swimming skills.
So, when your child returns home be sure to ask them what they did on or in the water this summer. Surely, they will have many fun stories to tell.
P.S. Our youngest campers dove for gold this past Tospy Turvy Tuesday!