Community Doesn't End When Camp Does.
Like branches of a tree, our lives may grow in different directions yet our roots remain the same.
NEXT ALUM EVENT: Stay tuned for Fall event details!
Meet
Polly Willams
Director of Alumni Development
Polly has been part of Farm & Wilderness for 41 years as a camper, seasonal staff member, director, and several year-round roles. Outside of her work at F&W, she has provided training for boards and organizations in anti-bias work, gender, sexuality, and issues surrounding adoption. She lives in Barre, VT with her wife. Her two children are third generation F&Wers. The oldest, Cedar attended the BDC and SAM, and most recently was the Adventure Head at F&W. Polly's daughter Terri went through the BDC and FS as a camper while managing to never live in a cabin that Polly lived in while at FS for 13 years. Polly loves working with children, being silly, canoeing, rock climbing, team sports, leisure tubing, camping and being out in nature.
Alumni Stories
Reminisce past adventures & reveal new ones!
Don't want to wait for the interim to get updates from other alumni? Check back to this space for stories from our community and get regular updates on friends! Interested in contributing to this column? Submit your written & recorded stories HERE!


F&W On The Road
Come together with other alum in your area!
NEW
2023 Spring Interim
Published April 13, 2023
We're excited to share with you the Interim Vol.86, which contains a beautiful bouquet of stories from 2022!
Read a letter from Executive Director Frances Mclaughlin, get the latest updates from community members, get the inside scoop into the last year of camp magic, and MORE!
Happy reading, y'all!
Want to be featured in the next interim? Stay connected with our ever-growing alumni network and share your camp memories & life updates HERE.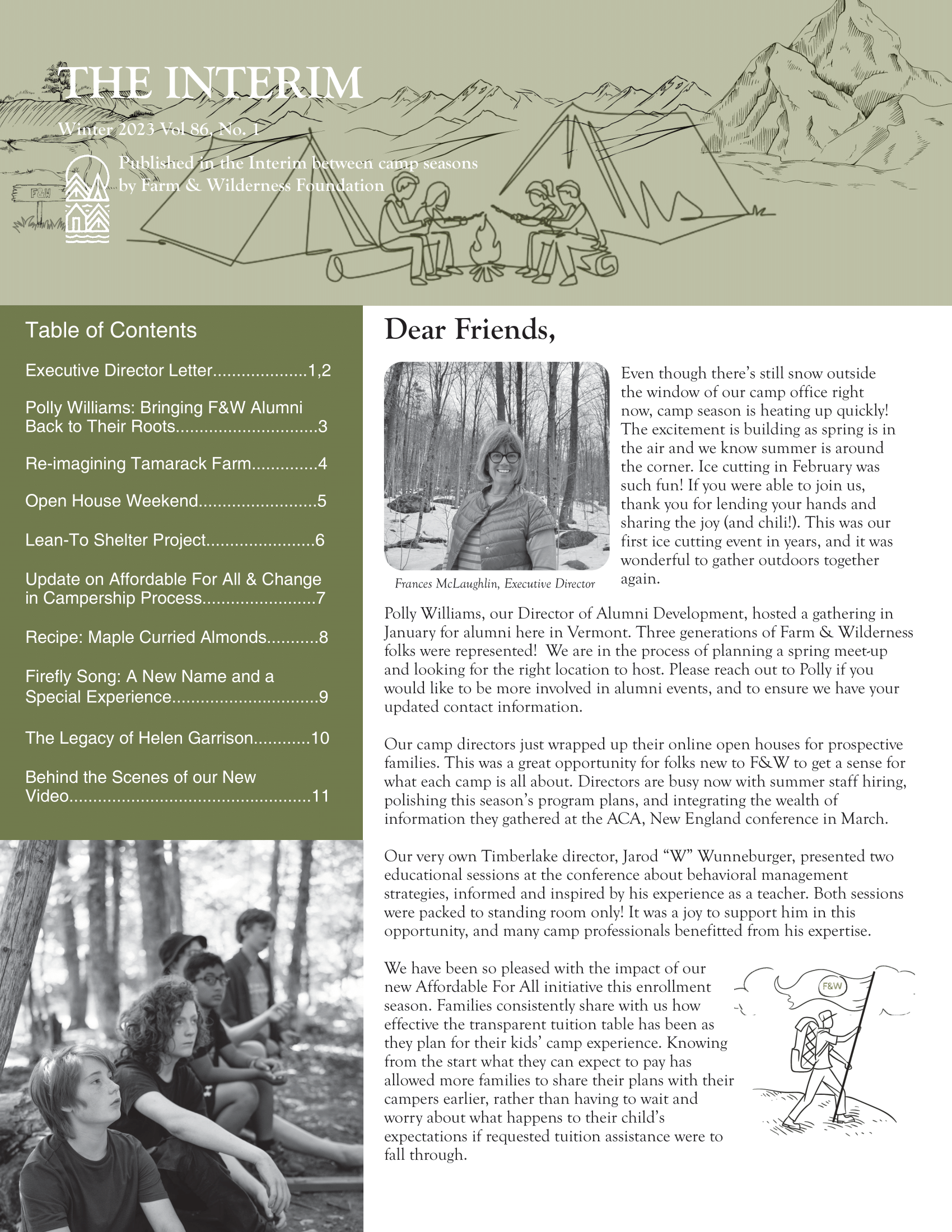 Farm & Wilderness has launched an effort to make our camp experience truly affordable for all families!
While F&W has a long history of our generous community providing financial aid through Camperships, we know that to truly make F&W affordable for all – we must do more than provide financial aid. Therefore, we are raising money for our expanded Campership Program.
This program goes beyond tuition assistance to fund a program that makes Farm & Wilderness truly accessible and affordable for all!


Parent Alumni Experience
Alums Kwame and Pakou share their experiences as Parents at F&W
"Our family history at camp goes back to 1963 when my mother, Jean Turkish, was a counselor at The Farm. So seeing my kids participating at the barn day camp this summer was very incredible . . . F&W has adapted and continued forward through the changing times, much appreciations to all the community for keeping the spirit alive."
— Kwame Nyong'o (BDC parent and F&W alum)
"The gravel road that led me to some of the most wonderful experiences of my life, in the place that changed my life. It's wild how just standing in this place makes me feel the same sense of freedom and possibility that I felt 35 years ago when I was 10 years old. Several months ago, I imagined my girls walking up this road and the thought made me cry. . . "
— Pakou Her (FS parent and F&W alum)