TEEN FARM SUMMER CAMP
TAMARACK FARM
MIXED GENDER
AGES 15-17
Creating Community and Meaning
Leadership, belonging and personal growth are the cornerstone for our Tamarack Farm campers.
Today's teens face mounting pressures to perform in school, prep for college and impress on social media. All while trying to navigate the normal teenage pressures to belong, feel meaningful and be engaged with the world around them. Tamarack Farm offers a unique program designed to provide specific skills and experience living and working together successfully.
It is also a bridge to the world that awaits our youth in work or college. The full scale farm, workshop and surrounding pristine wilderness of Vermont provide the perfect setting for a respite and break to recharge in a social environment geared to inspire, energize and nurture. Games, open mic, service and rest days, Town Meetings and many more moments provide intentional reflection and untethered celebration.
Our Farm has five possible immersion programs that provide both choice and focus.
DIRECTOR OF TEEN PROGRAM
Kate Kyros
Kate Kyros is a former camp counselor, leadership educator, wilderness trip leader, school administrator, and therapist. Kate grew up with a strong connection to both farms and wilderness and is surprised it took her well into adulthood to find her way to F&W! In her own words, "I believe magic happens when we are in community, immersed in the natural world, and doing meaningful work."
Kate holds an interdisciplinary BA in psychology, gender studies, and farming from Hampshire College, and an MSW from Smith College School for Social Work. She completed two years of post-masters study with The Mill River Institute for Dialogic Practice. Kate is an avid gardener, an aspiring meditator, and mother to two often-muddy children. When not at F&W, Kate calls Western Massachusetts home. Kate loves facilitating growth experiences and is excited to get started with F&W and our teens!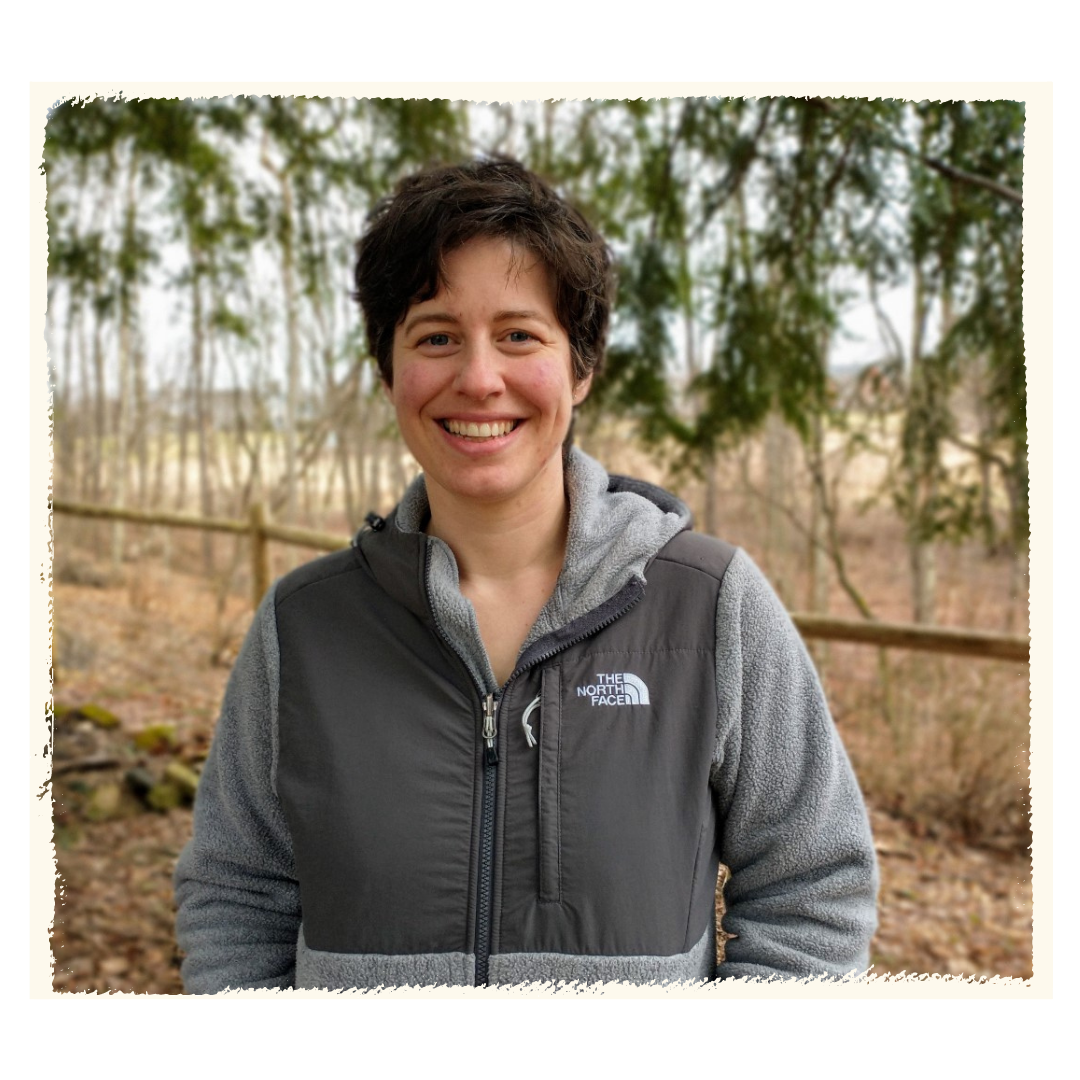 TAMARACK FARM
Dates
EXPLORE A TIME FOR ADVENTURE
| | |
| --- | --- |
| Session 1: | June 30 - July 20 |
| Session 2: | July 23 - August 13 |
HOME AWAY FROM HOME
Cabin Life
Housing: Tamarack Farmers begin each morning with an uninterrupted view of the woods, surrounded by peers. The cabins are all open three-sided wood structures with individual bunks and storage for each camper. As we build community, it's important each camper still has their space and campers enjoy personalizing their bunk. Cabin groups are based on gender, with more options for gender non-binary youth.
Facilities: Shared facilities are nearby for all their personal hygiene needs, including fresh water and hot showers.

"I helped build the Art Barn and honestly, if it weren't for that experience I probably wouldn't have had the confidence to go into Environmental and Mechanical Engineering"

Tamarack offers teens the opportunity to gain a deeper sense of confidence through meaningful work and face-to-face discussions. Given a chance to step up, our teens are trusted to act, envision and take ownership of projects in a non-competitive way. Together, they tackle new challenges as they build rafters for a new cabin or harvest beets.
Tamarack Offers Exciting Possibilities to Explore.
Dive into creating your summer community. Tamarack Farm campers share responsibilities, assume leadership roles and find growth opportunities in important issues as they explore issues of peace and justice and environmental sustainability.
Campers will spend their days in one of five areas: Environmental Sustainability, Carpentry and Construction, Artists in Residence, Agriculture and Homesteading and Lifeguarding and Wilderness First Aid.
Campers assist and take leadership roles in:
• Farm management
• Building projects
• Harvesting and delivering food to other F&W camps
• Creating art for the soul or to beautify the camp community
• Invasive species control with the lake associations

th
EXPERIENCE LIFE IN THE OUTDOORS
Activities
Complete meaningful projects as a result of your commitment.
Environmental Sustainability
Taking care of land - and steering clear of a desk job are both noble pursuits of this immersion. The work is project-based, and foundational skills will include forestry, trail marking and design, water quality testing, Identifying invasive species, fire building and cooking and more. The Environmental Sustainability crew might spend their morning canoeing to the floating bog on our Woodward Reservoir to take an inventory of the plant life. There is a place both for physical work and careful analytics in this immersion - getting your back and your brain into it!
Construction and Carpentry
Our Construction and Carpentry crew will work on a variety of building projects, from new buildings to interior and roofing and fixing shelters. They will study project design and planning as well as basic construction skills. A service component is built into the program as well.
Artists in Residence
Every member of this immersion is an Artist in residence. Working with a specialist who will bring their knowledge and experiences to provide guidance and structure. Areas of specialization offered in a session may include: photography, sculpture, ceramics, printmaking, fiber arts, etc.
Agriculture and Homesteading
How does the farm connect to the community? How can we sink carbon into our land more effectively and increase the nutrients and minimize runoff? What can we change on the farm today that will lessen the impact of flooding and climate change in the future? These are all questions addressed in this immersion as well as land access and inequities. Practice with fermentation, cheese-making, pasteurization, weaving, spinning, soap making and other homesteading skills complement the understanding of the value of a modern farm with historical roots.
Certifications: Lifeguarding and Wilderness First Aid
These are nationally recognized certifications followed by the opportunity to observe and practice in the setting of other Farm & Wilderness camps.