Three generations of the Gardiner family have attended Farm & Wilderness (F&W), beginning in the 1940s. The camp and its values have shaped the lives of so many Gardiners that when F&W launched its Affordable for All initiative, the family made a transformative gift towards that effort. Their $500,000 donation will enable more middle- and lower-income families to learn about F&W and how they can afford to send their children to camp. Helen Garrison, the eldest of the first generation of Gardiners and a life-long educator and school administrator in New York City, made the gift on behalf of her family. Sadly, Helen passed away in October of this year.
The oldest Gardiners — Arthur, John, and Fred — attended F&W in its early years. When they came home from camp, their parents said, "we were really different people — more centered and more relaxed as we were struggling rising into teenage years," recalled Arthur Gardiner. "We would be around the table singing all the camp songs." Arthur Gardiner was Chair of the F&W board in the 1980s and is a trustee today. One of Helen's daughters and three of Arthur's five children attended the camps, including one, Ned, who attributes to camp his life path as a geographer and a climate change scientist. Ned's son Asa was Timberlake Big Lodge head last year, and Asa's cousin attended Salt Ash Mountain camp in 2021.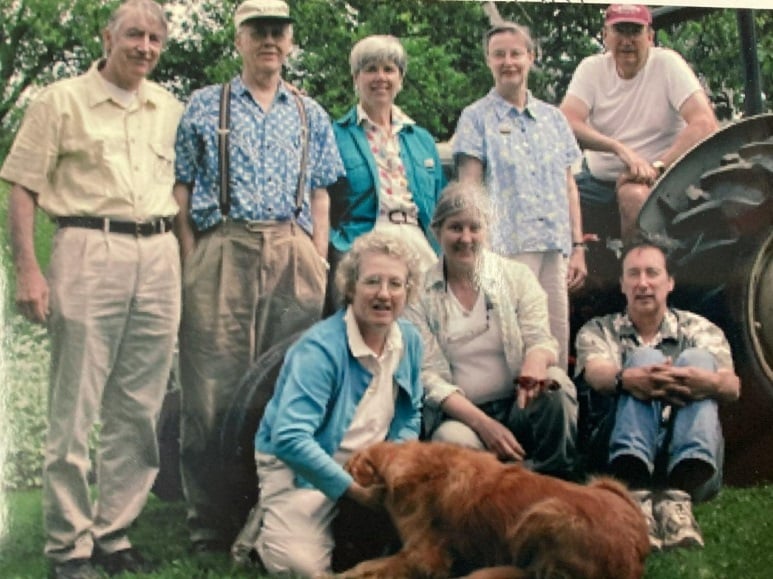 F&W launched Affordable for All in spring 2022 to engage more new families, make information about tuition assistance more transparent, and address the full cost of camp. This initiative clearly captured many hearts among F&W alumni, staff, and friends. The Gardiner gift enables us to move quickly to implement this program.
"We know all it takes to run a camp," said Helen Garrison. "It takes significant staff time and resources to recruit families, recruit and train staff, and deliver an excellent program."
Financial support is certainly part of it: Affordable for All includes access to gear (a warm sleeping bag and a sturdy pair of hiking boots are pricey!) and transportation to and from Vermont. But more importantly, as far as the Gardiners are concerned, is building relationships with potential new camp families. By developing more partnerships with schools, non-profits, and community-based organizations up and down the east coast more families from all socio-economic backgrounds will get to know F&W--and F&W will get to know them!
Parents and caregivers who have never been to overnight camp — let alone a rugged, rustic place like F&W — may need some extra support to see us as a place their children can thrive. Why does my kid need a bug net? Will she see herself reflected in the other campers and staff? What is the food like? And what is a kybo? Affordable for All will provide more ways for families new to F&W to learn about us and the values that underpin our work.
Arthur Gardiner says his family is particularly interested in investing in smart, dedicated, well-paid staff to develop that program. Building those relationships takes skill and time, and their gift is meant to facilitate both.
The elder generation of Gardiners grew up in Jim Crow Virginia and saw firsthand the harms of inequality. By making camp more affordable and accessible to a wider world of families, the expanded campership program aims to make socio-economic diversity among campers and staff a matter of fact at F&W and brings us one step closer to a more just world.
"It is in our family thinking, let's have more organizations like Farm & Wilderness that are bringing children together from those different social backgrounds. Be together and be friends and work together. They can communicate with each other and form teams to gradually heal the rift," Arthur Gardiner said. "And really be honest together with each other. When you're 11, 12, 13, 14, that's really possible. If it happens, it's enduring."
He goes on say, "Farm & Wilderness is only one voice, but that spirit is hugely important."