Dear Friends,
I'm writing to update you on our IB renaming process and share a few camp photos.
We had a well-attended information session about the camp renaming in June. If you missed it, please watch this video which recaps the information session. The video details the board's May decision to rename the camp in a way that honors the camp's special magic and our extensive and inclusive renaming process. The video also explains our desire to strengthen our connection with the Mohawk Nation at Akwesasne and honor the legacy of William John Rasen'nes Cook, known to many as Flying Cloud.
The next stage of our Renaming Process will be IB Community Dialogues. The purpose of these 1.5-hour dialogues is to bring the IB Community together to seek a new name for the camp. While these dialogues will focus on IB alums and their experiences, anyone in the F&W community can attend.
We will have a dialogue session via Zoom on Tuesday, July 27, from 5:30-7. IB Community members will have the opportunity to share reflections on the camp's intangible "special sauce" and offer possible suggestions for a new name. While we are not coming up with a new name during these dialogues, we will use the stories and insights offered as grist for identifying the new name. We will craft the recommendation for the new camp name during a focused, in-person, facilitated and directed, small group meeting in Vermont (a charrette) in October. We will present that name to the F&W Board of Trustees for approval at or before the January Board meeting.
Please sign up at eventbrite to attend the upcoming IB Community Dialogue on July 27. If you would like to attend a dialogue session but are unable to make that date, please email media@farmandwilderness.org.
I wanted to end with a few photos from camp this year. IB campers continue the tradition of learning, exploring, pushing beyond their limits, making friends, and having fun. Enjoy a few images from IB camp 2021.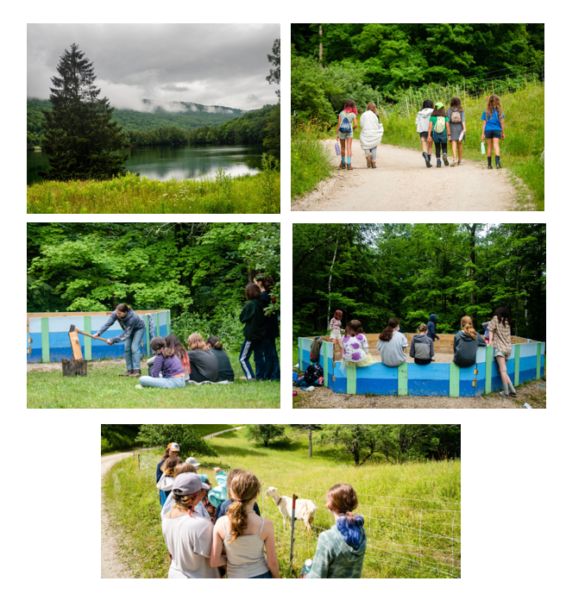 In peace,
Ann-Marie White
Assistant Clerk F&W Board
Clerk of Inclusion and Equity Committee of the F&W Board of Trustees