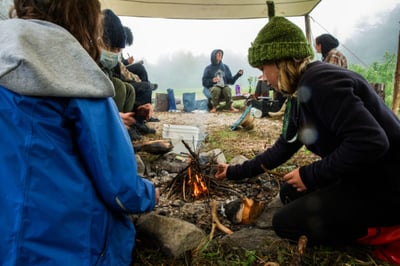 With the second week of camp underway, we're getting into the meat of things at Red Spruce Grove. Campers spent one morning in each activity area last week – seeding the garden, building fires, learning knots, and crafting – and this week they've launched into Guilds during morning activities.
Campers chose one Guild to focus on for five sessions, and get to go deeper into one skill.
This session, it's Grass and Weaving Guild, Earth Pottery Guild, and Kybo Mural Painting Guild. In Grass Guild, campers are learning how to braid and weave simple plant materials like grass and cattails into functional – and decorative – objects. Pottery Guild has started working with locally-harvested clay to make hand-built bowls, and will fire them in an open fire in a few days. Kybo Mural Guild first proposed several names for our lovely Kybo (winner by vote: the Vibe-bo) and is now working on an epic mural for the front.
Campers have also been building a chicken fence, helping in the kitchen, building stairs for a tent platform, making beeswax candles, and exploring the blueberry field. There have been a few hikes to swim in beautiful Lake Ninevah, and Senior campers, who are 14 or 15, have started making plans for their Legacy Project, which will be a project they complete towards the end of the session that is a way for them to leave their mark on camp. More details soon…
The chickens, new this year, have become a critical part of our community. Mandrew, Peaches, Houdini, Moxie, and Ezra Axel have become wonderful additions at the Grove. Campers are doing an awesome job of taking care of them all, and they've also become great entertainment as they free-range around camp during the day!
Beyond all the hard skills and tangible projects, we've been working hard on building our community. We've had some really meaningful evening talking circles, and had our first Community Council this past weekend where we discussed rearranging some chores to make them more equitable, and asked everyone how camp is going for them. There is a lot of gratitude for our small community, expressed every night at evening circle when we share appreciation for one another. Campers are supporting each other every day through chores, with positivity the whole way through. I'm inspired by the way everyone is working together in our wilderness homestead – RSG is truly small but mighty!
In peace,
Tori