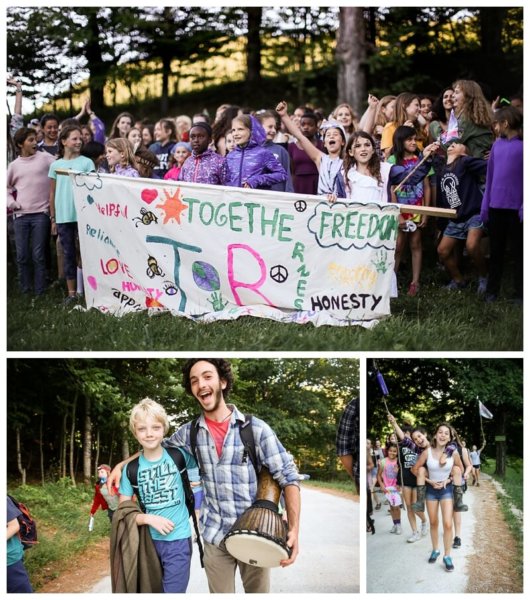 This past Friday we celebrated Interdependence Day at Farm & Wilderness. Interdependence Day is a time to honor all that is interconnected at F&W and beyond… oh and have a really good time. Campers spend days preparing for this event: writing and rehearsing songs, making props and costumes, and SAM camp puts an enormous effort into the SAM skit.
The Ninevah camps (SAM, Flying Cloud, and Red Spruce Grove left early in the day on Friday to hike about 10 miles to the Woodward camps. At 6 o'clock, Indian Brook campers led the parade, leaving from their camp and picking up all the other campers along the Farm & Wilderness road.
Campers gathered in the "bowl" and SAM opened the performance with an original, musical skit. Each camp followed with a song. The performances varied from rolling-on-the-ground funny to tear-jerking beautiful. After the songs, we ate a treat, danced, and had a bonfire. Shortly after the fire, the sound of the conch shell signaled campers to gather and return to their camps – tired and fulfilled. Interdependence Day is a magical event at Farm & Wilderness.