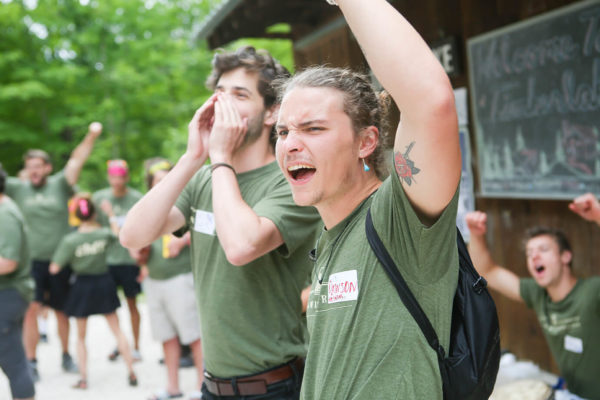 Campers arrived on Wednesday, towing their trunks and their parents. The campers were often smaller than their backpacks. At Timberlake, the road in front of the Trading Post filled in the first twenty minutes. Counselors shouted out each camper's name and cabin, followed by raucous cheers, and even a trumpet.
Down one hill and up the next, on the Tamarack Farm lawn, a frisbee and soccer ball were already mid-air. In the Building building, two campers started working away, making a table for Mandalay cabin.
In the apple orchard, arriving Red Spruce Grove campers dropped their bags in a circle of six large tents. One girl barely glanced back at her parents, shouting "goodbye, I'll miss you eventually!" Inside, six returning campers piled on top of each other, all interrupting, the air crowded with old stories retold and catching up on new ones. Twenty feet away in another tent, two new campers sat on their air mattresses, quietly writing in notebooks.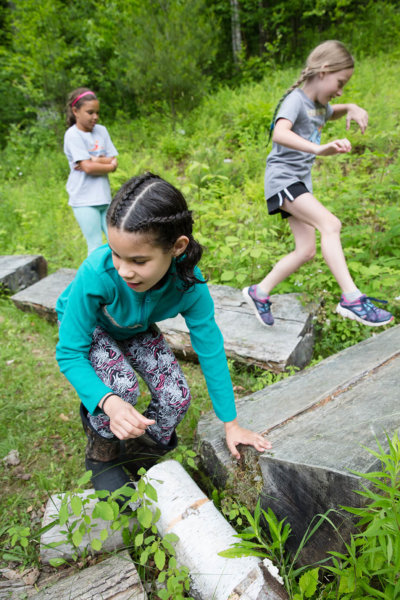 In the Indian Brook first lodge, some girls barely set down their backpacks before they bounced out of Woozles cabin and started leaping from log to log around their fire pit. An older sister appeared, asking "Did you set up your bunk? Mom sent me to find out."
Up the hill in Star Grove Willow, three campers fantasized about setting up a pulley system to pass items around their cabin, while another showed off family photos she had glued inside her trunk.
Up at Lake Ninevah, the sun was still shining but the air was muggy with an approaching storm. Saltash Mountain campers took tippy tests – paddling canoes out and flipping them, then swimming them back to shore to drain. The Flying Cloud gravel pit was full of campers, shouldering bags for the hike into their camp. Once they arrived, some campers were sad to see that the old cherry tree in the clearing had fallen over the winter. A counselor assured them: this means there will be plenty of good cherry wood for carving.
Back at the Barn Day Camp, the younger kids were finishing their third day of camp with a rousing round of Mt. St. Helens: "Oh, oh, oh, the mountain's gonna blow. BOOM!" They got instructions for their Thursday morning Adventure Day trips before going to meet their parents waiting behind the fence.
The first rain started just before dinner. Tamarack Farm circled for grace then walked through the drizzle to wash their hands. They have two sets of faucets, 25 feet apart – one for soap and the second to rinse. The walk in between is for scrubbing hands. The Farmers devoured 14 giant bowls of spaghetti then moved up to the Quiet Barn for a round of introductions. Campers at TL, IB and SAM returned to their cabins to discuss and write up Cabin Contracts, writing their own ground rules for living together.
We're off to a great start and MORE WILL BE COMING SOON…