I'm certainly excited for another summer of skills, crafts, and good old playing in the woods, and I hope you and your campers are too!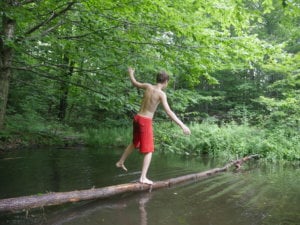 For those of you I haven't yet met, my name is Charlie Wyatt and I'm the new director of Flying Cloud. I've taken different roles on the Flying Cloud staff team for the last five summers, and I was a camper here for many summers before that. Flying Cloud has been an enormously positive influence on my life, and the friends I've made here are among my best and dearest. Helping your camper to have a similarly powerful and positive experience at Flying Cloud is an incredible privilege of mine, and I couldn't be more excited to go on that journey with them.
As the first day of camp approaches, I wanted to make sure that you have all of the information about the summer that you will need. We have a great staff team lined up for FC 2018 who will be bringing plenty of wilderness smarts, creative skills, compassion, and lots of goofy fun with them. Now all that's missing are a bunch of energetic, adventurous 11-14-year-olds to make Flying Cloud complete!
As I get the clearing ready for another magical summer, I'm sure that you'll be getting ready as well.
Getting Ready for Camp
We encourage kids to be explorers at camp which often means getting dirty and wearing practical clothes. That 5k Fun Run Shirt?
Perfect!! Please call the main office or email me if you have questions.
Here is some information on Backpacks, Boots & other Footwear that families have found useful, and you may too, as you pack for a Flying Cloud Summer of ADVENTURE! There are various items like backpacking equipment that we lend to campers, so consider contacting us before going out and buying something new.
To assist us in a lice-free summer please check your camper regularly in the weeks before camp and treat if necessary. If lice or nits are found we will take steps to have your child treated before entering the lodge area.
Regarding homesickness, this New York Times blog is a great resource. There is a lot you can do to prepare and prevent homesickness and we will be there to support your camper the entire time. For those who would like to read more, there is a more extensive and clinical pediatrics article here.
Camp Communications
As of June 16th, the Flying Cloud staff and I will transition to living up at Flying Cloud full time, and consequently, communication will become a little more difficult.
I live at camp with the staff and campers and generally only emerge from the wilderness when necessary. For example, it may take me as long as four days to respond to an email of yours. During the summer if you have any concerns please contact my voicemail at (802) 353-0078. I will be checking my voice-mail daily. If there is an emergency I will contact you with all due haste. Most importantly of all, I ask that you take to heart the time-honored adage "No news is good news." If there is any problem with your camper's experience I will be in contact, in part to keep you up to date on any rising issues, but also to enlist your help! You know your camper much better than we do, and we don't want to waste any time helping them love Flying Cloud.
Our Latest News
Please also feel free to visit the FC blog. The blog will be updated at least once a week during the summer with goings on around camp.
Read our Blog >>
Preparing You & Your Family
One part of our program is teaching about Inclusivity and Equity, as well as the value of difference. Our staff is trained to facilitate
meaningful, age-appropriate conversations on social justice; nurturing self and community identity, promoting comfort in socializing with people of different backgrounds, fostering critical thought about bias, and cultivating the ability to stand up in the face of bias.
Start by reading about how to begin these conversations with your camper so you can help us create a community full of kindness, compassion, and understanding. Click here for more information about Talking About Race With Your Child.
The foundation of our relationship is clear communication, so please don't hesitate to contact us with any questions at all.
We're looking forward to another great summer and I can't wait to see you all on arrival day!