The electrifying
presence of campers has returned to SAM camp! Before a hearty meal on our first night, we gathered in a big circle on the hill and every community member introduced themselves and said what kind of bug they'd be if they had to be a bug. We had wasps, bumble bees, and even spiders.
In true SAM fashion, we spent our first full day of camp packing out for our cabin trips. Campers learned how to set up tents, test stoves, pack their backpacks, plan their meals, and even how to read a topographical map!

After less than two full days at camp, we hiked and canoed out of camp to embark on five equally fun, equally soggy, cabin bonding adventures. The trips lasted three days and two nights. The first two days were filled to the brim with rain showers and thunder songs. That didn't stop us from singing, playing trail games, telling stories, learning camping skills and getting to know cabin mates.
We awoke to blue skies on our third and final day, and we thanked the sun for coming out just for us! We reflected on our time in the woods with some Silent Meeting before being reunited with the rest of the SAM community back at camp.
Returning to camp, after hugs and showers, we had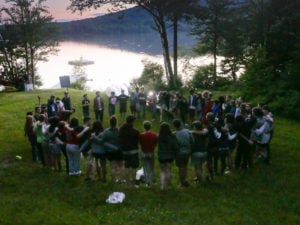 heard about all of the adventures that occurred during trips through theatrical skits by each cabin. We campers acted out sunrise canoe paddles, crazy rain storm stories, food mishaps and even a bear sighting! We ended the night with a peaceful circle by the waterfront as the sun set over Ninevah Lake and the loons sung us to sleep.

Click for More Photos!
Save