JOB OPPORTUNITIES
A SUMMER JOB WITH A PURPOSE
WORK AT FARM & WILDERNESS CAMPS
Expect an Amazing Summer
Spend your summer at one of Farm & Wilderness simple-living camps, where you'll focus on community, home grown fun and living closely with the natural world!
The primary focus of all camp staff is to create an experience for our campers that is both magical and transformative. Our camp jobs bear little resemblance to a normal nine to five staff job. Our staff are responsible for the care and guidance of young people for the summer. They are caregivers and educators, allowing campers to see many sides of a problem/issue and foster questions and growth. You are considered a role model every moment of every day as we strive to learn and understand the uniqueness of our campers.

"I had never been to summer camp…wow, did I learn so much! Farm & Wilderness will challenge you but ultimately can really help you grow as a person, even when you leave camp and in ways you wouldn't expect. As a medical student, I still use community contracts and am thankful to have had experience in navigating difficult conversations. "

What to expect when working at Farm & Wilderness camp? Expect the unexpected is our motto because sometimes, things just don't go as planned. It's important for everyone at Farm & Wilderness to be able to be flexible and adjust course when needed. Working at Farm & Wilderness provides the opportunity to learn and practice problem solving in real time while being a part of a supportive community. You can also expect to grow other professional skills including but not limited to communication, facilitation, leadership, time management, creativity, and public speaking.
Please Note: Farm & Wilderness offers a full range of employment opportunities including year-round, summer staff, and seasonal interns. People of any race, background, religion, gender, sexual orientation, or economic status are encouraged to apply to join our team!

All our camps have age and gender requirements for campers and staff. Please continue reading to find out which camp would be best for you. A note about gender: this information uses gender binary terms. However, we welcome applications from people of any gender, including trans, and gender nonconforming, and strongly encourage you to apply.
Barn Day Camp
Offers day programming for mixed gender campers age 3-10 and hires staff that are mixed gender 16 years and older (staff who live onsite must be 18 years old).
Flying Cloud
For boys and gender non-binary campers age 11-14; hires male and gender non-binary staff 18 years and older
IB
For girls and gender non-binary campers age 9-14; hires female and gender non-binary staff 18 years and older
Red Spruce Grove
For girls and gender non-binary campers age 11-14; hires female and gender non-binary staff 18 years and older
Questers
For mixed gender campers age 15-17; hires mixed gender staff 21 and older
Saltash Mountain
For mixed gender campers age 11-14; hires mixed gender staff age 21 and older
Tamarack Farm
For mixed gender campers age 15-17; hires mixed gender staff age 21 and older
Timberlake
For boys and non-binary campers age 9-14; hires male and gender non-binary staff age 18 and older, female and gender non binary staff age 18 and older for non-Counselor positions
Cabin Counselors
Cabin Counselors/Trip Leaders
Activity Area Heads (Waterfront, Barns & Gardens, Outdoor Living Skills, Work Projects, Creative Arts, Rocks and Ropes)
Lodge Heads
Assistant Director
Program Director
Wilderness Trips Coordinators and Trip Leaders
Cooks
Kitchen Coordinator
Behavioral Health Coordinator
Nurse/Medical Staff
Driver
Please Note: A full summer residential commitment is required for most positions; typically from early June to mid-August.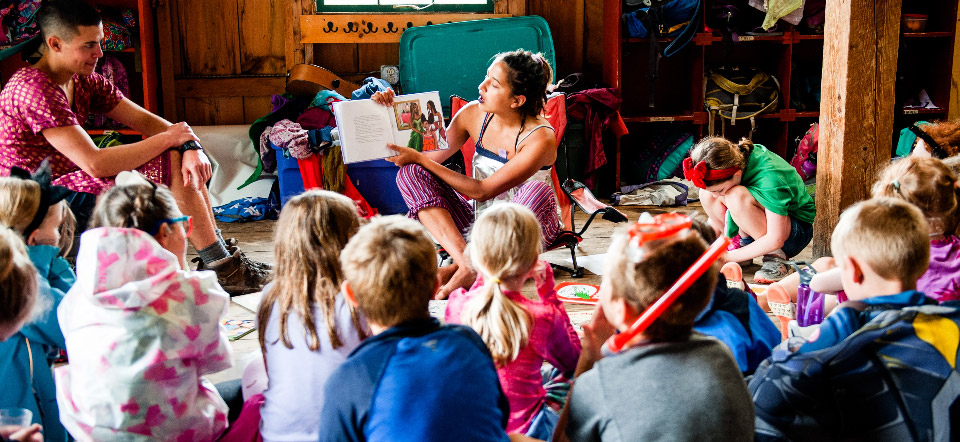 Setting: Many of our camp operational systems are rooted in sustainable practices to reduce our footprint on the land. Farm & Wilderness is known for its wilderness experiences. All staff and campers live in three-sided open-air cabins or canvas tents that are rustic and do not have electricity. Flashlights or candles will light your way at night and you will sleep to the natural sounds of the forest. We only use composting outhouses, which we call Kybos, while at camp.

Our camp kitchens will provide healthy camp food from our working farm which
provides fruit, vegetables and meat.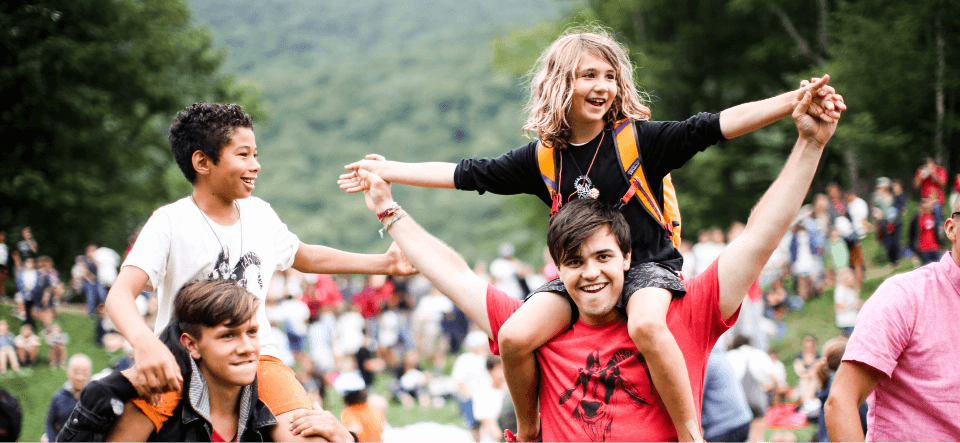 Compensation includes a modest salary, room & board, Internet access in the staff house and one day off per week. Working at Farm & Wilderness comes with countless benefits beyond monetary compensation. You will join a diverse group of people who take pride in learning, sharing ideas, and enjoy serving each other and the community.
Did you know?
All first-time Farm & Wilderness staffers attend several days of skills training in the activity area in which they will teach campers. Activities may include kitchen work, outdoor living, work projects (building, construction & carpentry), barns and gardens, rock climbing, tripping, canoeing and certification in CPR/first aid, Red Cross lifeguarding and Wilderness First Aid if needed. Following Skills Week, all summer staff attend a Staff Week at their camp, receiving further training in their activity specialties, cultural competency, safety and boundaries, age-appropriate activities and preparing their cabins and lodge groups to welcome and support their particular campers.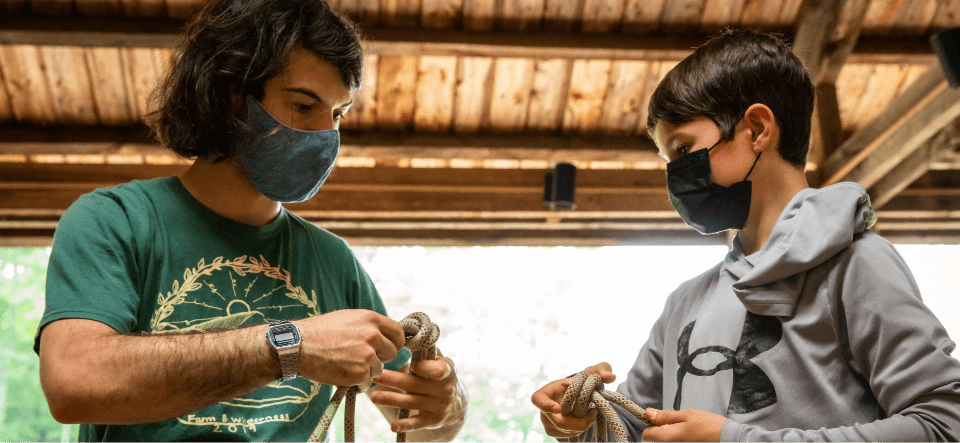 Farm & Wilderness is looking for individuals who have the aspiration to work at a summer camp, are conscientious, responsible, mature and calm under pressure. Other qualities we are looking for are a willingness to put in odd and long hours, are well organized, good problem solvers, clear communicators and passionate about working with children. We believe strong candidates are committed to community, willing to be a role model, and have technical skills to offer such as arts, lifeguarding, wilderness tripping, leadership, teaching, gardening and animal husbandry.
Application and Questions?
Are you interested in applying? Are you still not sure what camp or position is right for you? Do you want more information? If you said yes to any of these questions, we would love to hear from you!!!
What to Expect
: We will send you email information about working at camp, positions available, and detail the next steps in the hiring process. If you have questions at any time, please contact our Human Resources Manager, Julie Sanderson, at
julie@farmandwilderness.org.