Strong Hands, Strong Hearts
Red Spruce Grove Camp encourages our youth to live off-grid, unplugged from modern distractions as they explore the wonders of nature, living close to the land.
Immersed in a small wilderness community, campers learn valuable life skills as they enjoy the power of community. Campers learn to cook over an open fire, creating nutritious meals. They build shelters, learn ax and knife safety and other wilderness-living skills. Amid the knot tying and blueberry picking, campers learn resilience and self-reliance. They delight in living without clocks and more in tune with circadian rhythms.
In the wilderness, youth learn from each other with ample time to reflect on their surroundings. Campers thrill in sharing their stories and creating skits and songs about their exploits at summer camp!
This is a very close knit community - small yet mighty, lacking for nothing not found in the Grove!
LEARN MORE ABOUT RSG FROM
Team Admissions
admissions@farmandwilderness.org
Hello! Allow us to introduce ourselves: We are Sam Green (they/she) and Jenny (she/her), aka Team Admissions!
While we search for the next Red Spruce Grove director extraordinaire, we will be your primary contacts for all things RSG & Registration related! We look forward to introducing you to the dazzling and profound summer experience that is Red Spruce Grove.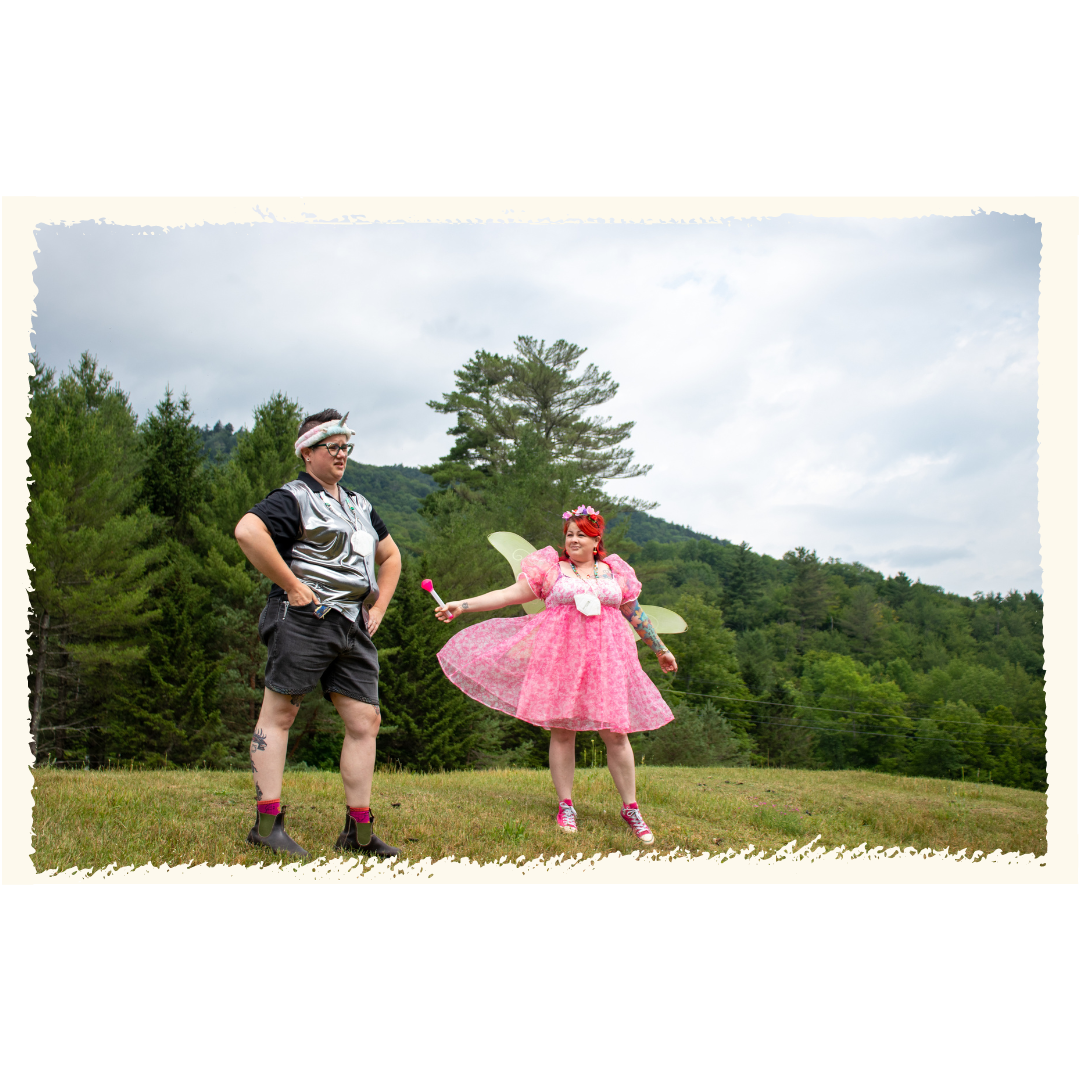 RED SPRUCE GROVE
Dates
EXPLORE A TIME FOR ADVENTURE
| | |
| --- | --- |
| Session 1 | June 30 - July 20 |
| Session 2 | July 23 - August 13 |
HOME AWAY FROM HOME
Cabin Life
Red Spruce Grove campers are placed in groups based on age, interests, and prior experience with one staff member per four kids living in a canvas, one pole structure with a wooden platform.
The tents are cozy at night, glowing from candlelight. In this wilderness space, our youth learn from their surroundings and each other.

"There is wonder within me. My mind, body, past, and future aren't my enemy anymore."

Explore Life At Red Spruce Grove Camp
Every day there are new activities to challenge our campers as they explore the excitement and wonder of what it's like to live in the natural world without cell phones or even watches.
Mornings begin with a circle to share gratitude for the natural world, and then chores to welcome in the day – feeding the chickens, watering the garden, and collecting and splitting firewood. After breakfast and some time for music and singing (raucous or reflective, depending on how we're feeling!), everyone sits together in a silent meeting. This is a time for our campers to embrace the simplicity of sitting quietly in self-reflection close to nature, in our special spot in the blueberry field. Afterwards, campers begin a fun filled, educational day immersed in a dynamic wilderness classroom. Mornings consist of Guilds, where campers can focus on one topic such as wild edibles or fiber arts, or other focused projects. Through skill-building, exploration, and play, campers can easily fall in love with the simplicity of wild places.
Afternoons are filled with projects or learning a special skill. After lunch and rest hour, campers choose their afternoon activities. From improving tracking skills or starting a fire using friction, to picking blueberries on a nearby mountain top, the wilderness provides the perfect school. There is so much room for this unique group of campers to dedicate time to how they want to work and grow and lead.
Evening is a time for gathering in community. Our campers enjoy a filling meal, such as hearty chili and fresh corn bread before gathering for an all-camp activity. This is a chance to burn off some energy before dusk. As the evening winds down, it's off to sleep in a canvas structure as the stars glimmer in the fresh night air.

th
EXPERIENCE LIFE IN THE OUTDOORS
Activities
Weaving a bark basket, creating meals over an open flame, playing guitar – simple living rocks!
Simple Living
Red Spruce Grove campers learn a variety of new wilderness skills from wild edibles, gathering and cutting firewood for cooking, to finding their way with celestial navigation and cardinal directions. Our campers play and learn as they learn how to cook meals and run the community together.
Crafts and Music
Campers collect materials from nature and create handmade crafts to take home. From wooden spoons, clay bowls, to items fashioned from bark and roots, our youth delight in their creations! Singing is woven into every day, and we take pride in the songs we write together.
Reflections and Reverence
Campers experience life that moves with daily natural rhythms, including spaciousness to just "be" in the natural world. Daily gratitude, Silent Meeting, nature awareness activities, solos, and sharing intentions help campers tune into themselves and the earth.
Trips and Adventures
Campers participate in 24 hour solo trips where they practice their backcountry skills which fosters their independence, resilience and self confidence.
Backcountry Cooking
Campers learn how to build fires appropriate for cooking meals. They create amazing recipes for their meals without using appliances!
Work Projects
Ambition reigns with our Red Spruce Grove campers as they fell trees, raise yurts and fashion dish racks from branches. Campers learn how to build and use materials in their natural environment in creating their wilderness home.



Latest Posts from Red Spruce Grove Camp