I'm in touch to let you know that Theresa Serr, the Director of IB and Red Spruce Grove, has decided to take a new program role at Two Rivers Supervisory Union, the school district that serves nearby towns including Ludlow, Mt. Holly and Chester where she will oversee the 21 Century Learning after-school and summer programs.
Theresa joined Farm & Wilderness in 2019, and I am very grateful for her leadership and stewardship of our largest camp during such a challenging time in the world.  Under her leadership, IB and Red Spruce Grove welcomed back over 200 campers this past summer. Watching Theresa in action–even at a distance–this summer, I saw her demonstrate that work truly is love made visible and that camp magic can happen anytime, anywhere!
Theresa shared with me, "IB and Farm & Wilderness have my sincere respect, gratitude, and more than a little part of my heart. Serving as the Director of IB and supporting Red Spruce Grove has been such an honor. Stewarding the development of program, staff and community, a true treat. Working and living in residence is simply not congruent to the needs of my partner, teenage son, and aging parents. It is in the spirit of care, love, and light that I step aside to be fully present for my family, and to create space for the next champion of IB and Red Spruce Grove."
While we are sad to see Theresa go, my colleagues and I fully respect and understand her decision to make this change and prioritize her family.
Polly Williams will be assuming a larger leadership role at F&W, continuing to lead BDC and serving as the Acting Director of IB and RSG during this transition. Polly will work closely with me and Tori Heller, the Red Spruce Grove Program Director, on several program development projects for IB and RSG, as well as the recruitment and training and support of IB's next Director.
Many IB families and alumni know Polly, who started her F&W journey as a camper over 40 years ago, worked at and served as the IB Director in the 90s. For the past several years Polly has directed the Barn Day Camp, and earlier this year she joined F&W's leadership team.
Over the past few years, Polly has built an incredibly capable leadership and program staff at BDC, and she and I will work with these folks and others to ensure seamless and strong leadership at BDC, as Polly assumes leadership responsibilities at IB.
Polly brings a wealth of experience, from her various F&W roles as well as an educator and DEI adviser at Cambridge Friends School and in other youth development organizations, and a DEI consultant to other schools and camps. I am looking forward to working closely with Polly, and I know she is looking forward to deepening her connection to IB—the camp, campers, families, alumni, and staff. Stay tuned for a note from Polly.
If you would like to set up a time to talk with Polly or me, please reach out to polly@farmandwilderness.org or frances@farmandwilderness.org.
With Theresa's departure, I will be working with Ann-Marie White, our Assistant Clerk, as well as Polly and Tori Clitheroe, an IB alumna and our Communications Coordinator, to adjust our plan for engaging the IB community to discern a new name for IB. We are still planning to present a new name to the Board of Trustees in January, but our path to get from here to there will look a little different than we'd originally communicated.
Please join me in thanking Theresa and wishing her well as she embarks on her next chapter and in welcoming (back) Polly Williams to IB.
Warmly,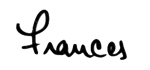 Frances McLaughlin
Executive Director